US Silver Coins pre-1965
Whether you are looking for Silver Dollars, Silver Half Dollars, Silver Dimes or Silver Quarters we have a full selection. These coins are great for barter. They are also legal tender in the US but worth their actual silver content.
Contact For Quote
Last Updated Monday, May 29, 2023 6:15 PM Mon, May 29, 2023 6:15 PM
Prices are subject to change throughout the day.
$1 FV 90% Silver Roosevelt Dimes (1946-1964)
| Quantity | Price |
| --- | --- |
| We Sell $100-199 Face Value | $28.78 |
| $500-900 Face - OUT | $28.53 |
| We Sell 1000+ Face- OUT | $28.28 |
| We Buy 100-499 Face | $20.28 |
| We Buy 500-1000 Face | $20.78 |
| We Buy 1001+ Face | $20.88 |
$1 FV 90% Silver Washington Quarters
| Quantity | Price |
| --- | --- |
| We Sell 100-499 Face | $26.83 |
| We Sell 500-900 Face- OUT | $26.73 |
| We Sell 1000+ Face-- OUT | $26.53 |
| We Buy 100-499 Face | $20.78 |
| We Buy 500-1000 Face | $20.98 |
| We Buy 1001+ Face | $21.08 |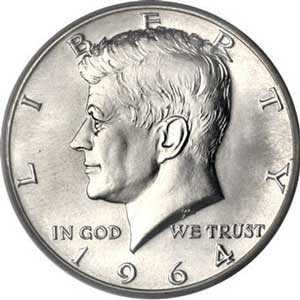 $1 FV 90% Silver 1964 Kennedy Half Dollars
| Quantity | Price |
| --- | --- |
| We Sell 100-199 Face | $28.16 |
| We Sell 500-900 Face | $28.06 |
| We Sell 1000+ Face | $27.81 |
| We Buy 100-499 Face | $20.56 |
| We Buy 500-1000 Face | $21.06 |
| We Buy 1001+ Face | $21.56 |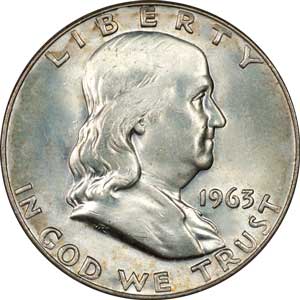 $1 FV 90% Silver Franklin Half Dollars
| Quantity | Price |
| --- | --- |
| We Sell $100-199 Face | $28.63 |
| We Sell $200-499 Face- OUT | $28.33 |
| We Sell $500-999 Face-OUT | $28.23 |
| We Sell $1000+ Face- OUT | $28.13 |
| We Buy $100-999 Face | $22.56 |
| We Buyl $1000+ Face | $22.16 |
1878-1904 Morgan Silver Dollar - Cull
| Quantity | Price |
| --- | --- |
| We Sell 100-199 Coins | $31.79 |
| We Sell 200-499 Coins | $31.69 |
| We Sell 500-999 Coins | $31.39 |
| We Sell 1000+ Coins | $31.15 |
| We Buy 100-499 Coins | $27 |
| We Buy 500-999+ | $27.5 |
| We Buy 999+ | $27.75 |
Peace Silver Dollar - Cull
| Quantity | Price |
| --- | --- |
| We Sell 100-199 Coins | $31.54 |
| We Sell 200-499 Coins | $31.44 |
| We Sell 500-999 Coins | $31.14 |
| We Sell 1000+ Coins | $31.04 |
| We Buy 100-499 Coins | $26.75 |
| We Buy 500-999+ | $27.25 |
| We Buy 999+ | $27.5 |
Peace Silver Dollar - Fine+
| Quantity | Price |
| --- | --- |
| We Sell 100-199 Coins | $34.5 |
| We Sell 200-499 Coins | $34.25 |
| We Sell 500-999 Coins | $34 |
| We Sell 1000+ Coins | $33.75 |
| We Buy 100-499 Coins | $27.5 |
| We Buy 500-999+ | $28 |
| We Buy 999+ | $28.5 |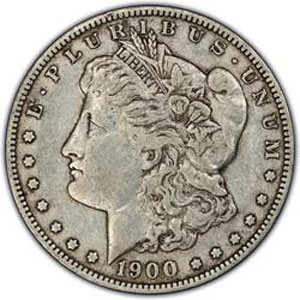 1878-1904 Morgan Silver Dollar - Fine+
| Quantity | Price |
| --- | --- |
| We Sell 100-199 Coins | $38.15 |
| We Sell 200-499 Coins | $37.44 |
| We Sell 500-999 Coins | $36.73 |
| We Sell 1000+ Coins | $36.7 |
| We Buy 100-499 Coins | $34.25 |
| We Buy 500-999+ | $34.5 |
| We Buy 999+ | $34.75 |
1921 Morgan Silver Dollar - Fine+
| Quantity | Price |
| --- | --- |
| We Sell 100-199 Coins | $33.25 |
| We Sell 200-499 Coins | $33 |
| We Sell 500-999 Coins | $32.25 |
| We Sell 1000+ Coins | $31.75 |
| We Buy 100-499 Coins | $28.25 |
| We Buy 500-999+ | $28.5 |
| We Buy 999+ | $28.75 |