Silver Bullion Coins, Bars and Rounds
Our one troy ounce silver rounds are certified .999 pure silver. They are privately minted, COMEX approved and IRA Eligible. WE also offer certified 10 or 100 oz silver bullion bars.
Contact For Quote
Last Updated Monday, May 29, 2023 6:00 PM Mon, May 29, 2023 6:00 PM
Prices are subject to change throughout the day.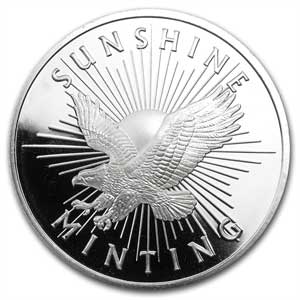 1/2 Troy oz .999 Silver Round - Brand Varies
| Quantity | Price |
| --- | --- |
| We Sell 50-499 half oz (each) | $16.17 |
| We Sell 500-900 half oz (each) | $16.07 |
| We Sell 1000+ oz half oz (each) | $15.97 |
| We Buy 50-499 half oz (each) | $12.17 |
| We Buy 500-1000 half oz (each) | $12.67 |
| We Buy 1001+ half oz (each) | $12.77 |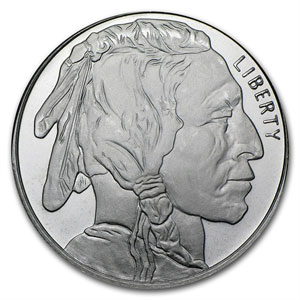 1 Troy oz ,999 Pure Silver Round - Buffalo Design (New Uncirculated!)
| Quantity | Price |
| --- | --- |
| We Sell 100-499 Oz | $27.71 |
| We Sell 500-1499 oz | $27.31 |
| We Sell 1500+ oz | $27.14 |
| We Buy 100-499 | $23.14 |
| We Buy 500-1000 oz | $23.19 |
| We Buy 1001+ oz | $23.24 |
1 Troy oz .999 Silver Round - Design Varies (IRA Eligible, New-Uncirculated!))
| Quantity | Price |
| --- | --- |
| We Sell 100-499 oz | $27.91 |
| We Sell 500-1499 oz | $27.51 |
| We Sell 1500+ oz | $27.34 |
| We Buy 100-499 oz | $24.14 |
| We Buy 500-1499 oz | $24.24 |
| We Buy 1500+ oz | $24.29 |
1 Troy oz .999 Silver Bar - Buffalo Design (New-Uncirculated!)
| Quantity | Price |
| --- | --- |
| We Sell 100-499 oz | $29.21 |
| We Sell 500-1499 oz | $28.89 |
| We Sell 1500+ oz | $28.59 |
| We Buy 1000-499 oz | $23.84 |
| We Buy 599-1500 oz | $23.94 |
| We Buy 1501+ oz | $24.04 |
1 Troy oz .999 Silver Bar - Brand Varies (IRA Eligible, New Uncirculated!)
| Quantity | Price |
| --- | --- |
| We Sell 100-499 oz | $29.41 |
| We Sell 500-1499 oz | $29.09 |
| We Sell 1500+ oz | $28.79 |
| We Buy 100-499 oz | $23.84 |
| We Buy 200-499 oz | $23.94 |
| We Buy 500+ oz | $24.04 |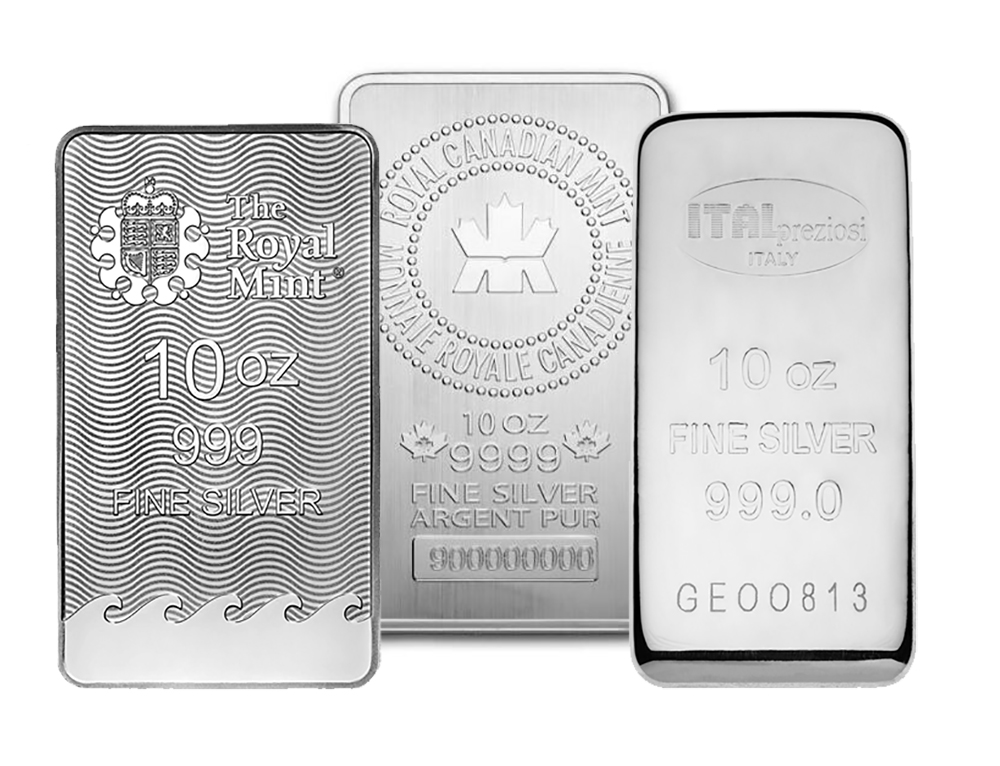 10 Troy oz. 999 Silver Bar - Brand Varies (NEW Uncirculated)
| Quantity | Price |
| --- | --- |
| We Sell 10-49 Bars (each) | $279.76 |
| We Sell 50-150 Bars (each) | $270 |
| We Sell 151+ Bars (each) | $267.43 |
| We Buy 10-49 Bars (each) | $236.93 |
| We Buy 50-50 Bars (each)) | $237.43 |
| We Buy 50+ Bars (each) | $237.68 |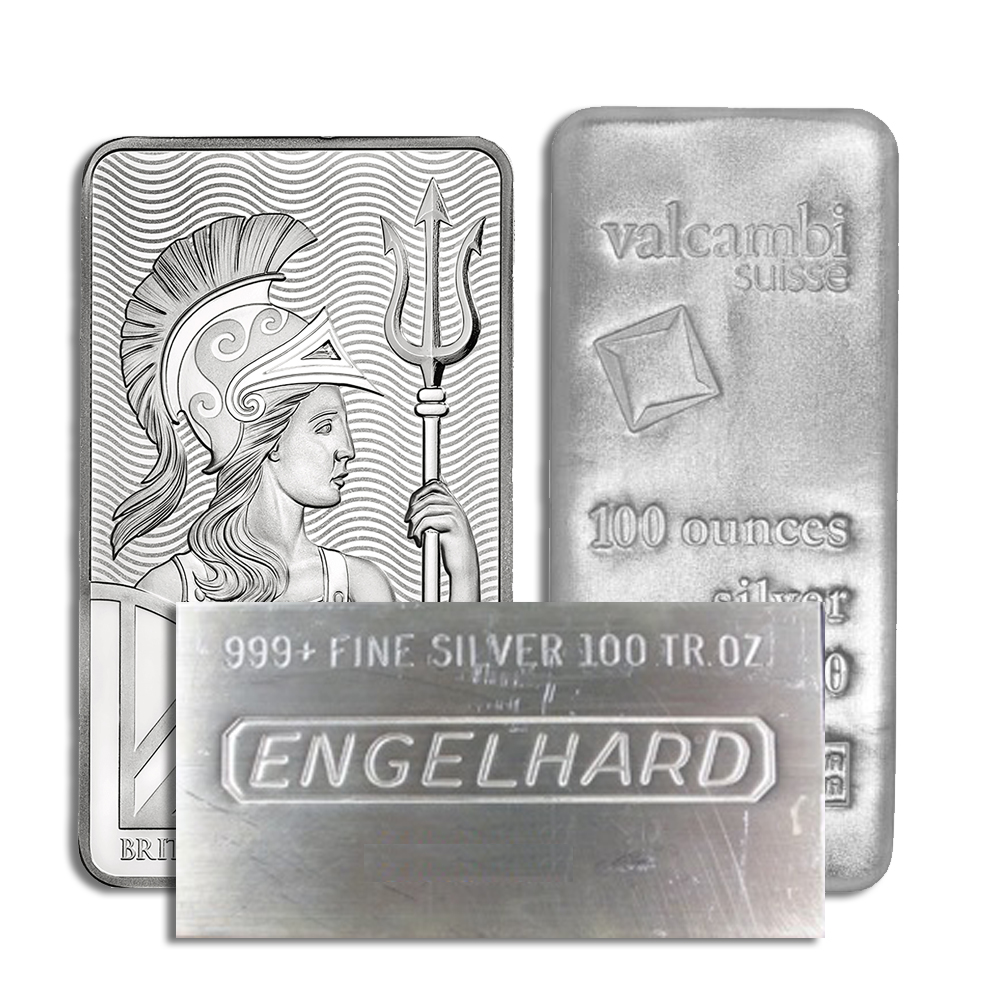 100 Troy oz .999 Silver Bar - Brand Varies
| Quantity | Price |
| --- | --- |
| We Sell 1-4 Bars (each) | $2617.67 |
| We Sell 5-9 Bars (each) | $2591.67 |
| We Sell 10+ Bars (each) | $2581.67 |
| We Buy 1-5 Bars (each) | $2164.33 |
| We Buy 6-9 Bars (each) | $2214.33 |
| We Buy 10 Bars (each) | $2264.33 |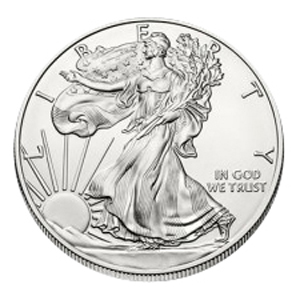 Silver American Eagle - BU (Year Varies) .999 Troy Oz Each
| Quantity | Price |
| --- | --- |
| We Sell 100-499 Coins | $40.23 |
| We Sell 500-1499 Coins | $39.94 |
| We Sell 5001+ Coins | $39.24 |
| We Buy 50-499 Coins | $26.24 |
| We Buy 500-1000 Coins | $27.24 |
| We Buy 1001+ Coins | $28.24 |
1 Troy oz BU Canadian .9999 Silver Maple Leaf (year varies)
| Quantity | Price |
| --- | --- |
| We Sell 100-499 oz | $33.09 |
| We Sell 500-1500 oz | $32.96 |
| We Sell 1501+ oz | $32.62 |
| We Buy 100-499 oz | $25.37 |
| We Buy 500-1500 oz | $25.87 |
| We Buy 1500+ oz | $26.12 |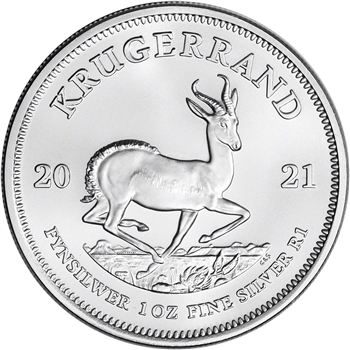 1 Troy oz .999 Silver Krugerrand - BU (Year Varies)
| Quantity | Price |
| --- | --- |
| We Sell 100-499 oz | $28.84 |
| We Sell 500-1500 oz | $28.64 |
| We Sell 3000+ oz | $28.24 |
| We Buy 100-499 oz | $23.34 |
| We Buy 500-1000 oz | $23.59 |
| We Buy 1001+ oz | $23.84 |
1 Troy oz BU Austrian .999 Silver Philharmonic (Year Varies)
| Quantity | Price |
| --- | --- |
| We Sell 100-499 oz | $30.32 |
| We Sell 500-1499 oz | $30.12 |
| We Sell 1500+ oz | $30.02 |
| We Buy 100-499 oz | $25.46 |
| We Buy 500-1499 oz | $25.71 |
| We Buy 1500+ oz | $25.96 |
1 Troy oz Great Britain .999 Silver Britannia (Year Varies)
| Quantity | Price |
| --- | --- |
| We Sell 100-499 oz | $28.39 |
| We Sell 500 -1499 oz | $27.85 |
| We Sell 1499+ oz | $27.39 |
| We Buy 100-499 oz | $22.94 |
| We Buy 500-1499 oz | $23.09 |
| We Buy 1500+ oz | $23.44 |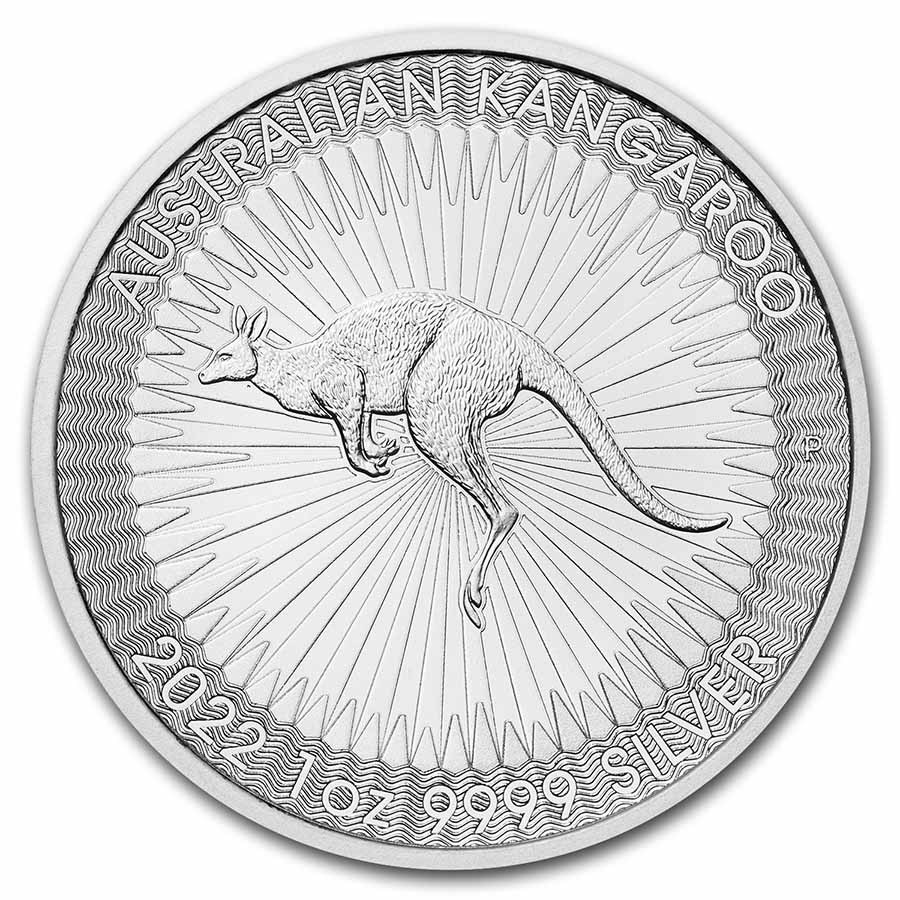 2022 1 Troy oz Australian Kangaroo .999 Silver Coin
| Quantity | Price |
| --- | --- |
| We Sell 100-499 oz | $28.57 |
| We Sell 500-2999 oz | $27.97 |
| We Sell 2999+ oz | $27.67 |
| We Buy 100-499 oz | $24.19 |
| We Buy 500-1000 oz | $24.29 |
| We Buy 1001+ oz | $24.44 |
Silver American Eagle - BU - Sealed Monster Box (Year Varies)- 500 Coins
| Quantity | Price |
| --- | --- |
| We Sell 500-1500 Coins | $37.25 |
| We Sell 1501-5000 Coins | $37.16 |
| We Sell 5001+ Coins | $37.04 |
| We Buy 50-499 Coins | $31.34 |
| We Buy 500-1000 Coins | $31.49 |
| We Buy 1001+ Coins | $31.74 |