Gold Bullion Coins
Gold Bullion is considered to be pure gold. Oftentimes, like with the American Gold Eagle, other metals are added to harden the coin for circulation. One ounce Gold Bullion coins include the US Gold Eagle, Canadian Gold Maple Leaf (.9999 pure Gold), the Gold Krugerrand, Gold Kangaroo, Gold Philharmonic or Gold Britannia. Govt. Gold coins are also sold as fractional gold coins (less than an ounce. Gold Bullion is also available in .9999 pure gold bars and rounds. These range in size from 1 gram to 10 ounce bars. We have a complete selection of gold bullion products.
Contact For Quote
Last Updated Tuesday, February 7, 2023 12:30 PM Tue, Feb 7, 2023 12:30 PM
Prices are subject to change throughout the day.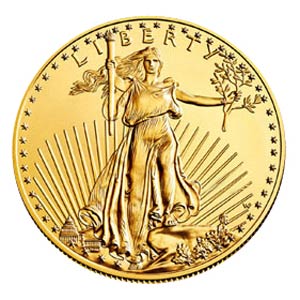 1 Troy oz Gold Eagle - BU (Year Varies)
| Quantity | Price |
| --- | --- |
| We Sell 3-9 oz | $1987.59 |
| We Sell 10-19 oz | $1982.59 |
| We Sell 20+ oz | $1976.59 |
| We Buy 3-9 oz | $1868.59 |
| We Buy 10-19 oz | $1873.59 |
| We Buy 20+ oz | $1878.59 |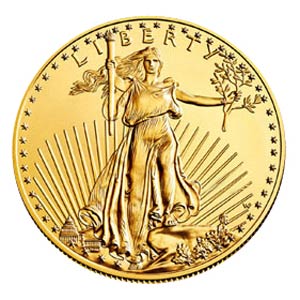 1/2 Troy oz Gold Eagle - BU (Year Varies)
| Quantity | Price |
| --- | --- |
| We Sell 5-9 Coins | $1031.24 |
| We Sell 10-19 Coins | $1028.24 |
| We Sell 20+ Coins | $1024.24 |
| We Buy 5-9 Coins | $917.24 |
| We Buy 10-19 Coins | $922.24 |
| We Buy 20+ Coins | $928.24 |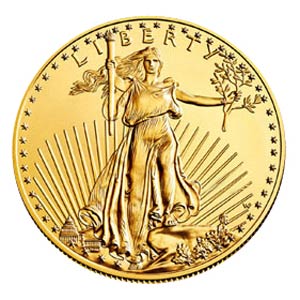 1/4 Troy oz Gold Eagle - BU (Year Varies)
| Quantity | Price |
| --- | --- |
| We Sell 5-9 Coins | $557.61 |
| We Sell 10-19 Coins | $553.61 |
| We Sell 20+ Coins | $550.61 |
| We Buy 3-9 Coins | $444.61 |
| We Buy 10-19 Coins | $449.61 |
| We Buy 20+ Coins | $455.61 |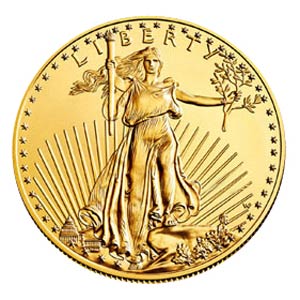 1/10 Troy oz Gold Eagle - BU (Year Varies)
| Quantity | Price |
| --- | --- |
| We Sell 5-9 Coins | $237.8 |
| We Sell 10-19 Coins | $234.8 |
| We Sell 20+ Coins | $231.8 |
| We Buy 5-9 Coins | $180.8 |
| We Buy 10-19 Coins | $185.8 |
| We Buy 20+ Coins | $188.8 |
1 Troy oz .9999 Gold Maple Leaf (Year Varies)
| Quantity | Price |
| --- | --- |
| We Sell 5-9 oz | $1956.46 |
| We Sell 10-19 oz | $1950.46 |
| We Sell 20+ oz | $1946.46 |
| We Buy 5-9 oz | $1866.46 |
| We Buy 10-19 oz | $1868.46 |
| We Buy 20+ oz | $1871.46 |
2022 1/2 Troy oz .9999 Gold Maple Leaf (Sealed)
| Quantity | Price |
| --- | --- |
| We Sell 5-9 Coins | $1030.52 |
| We Sell 10-19 Coins | $1027.52 |
| We Sell 20+ Coins | $1025.52 |
| We Buy 5-9 Coins | $920.52 |
| We Buy 10-19 Coins | $925.52 |
| We Buy 20+ Coins | $930.52 |
2022 1/4 Troy oz .9999 Gold Maple Leaf (Sealed)
| Quantity | Price |
| --- | --- |
| We Sell 5-9 Coins | $579.32 |
| We Sell 10-19 Coins | $576.32 |
| We Sell 20+ oz Coins | $572.32 |
| We Buy 5-9 oz Coins | $469.32 |
| We Buy 10-19 oz Coins | $474.32 |
| We Buy 20+ oz Coins | $479.32 |
1/10 Troy oz .9999 Gold Maple Leaf (Year Varies - Sealed)
| Quantity | Price |
| --- | --- |
| We Sell 5-9 Coins | $230.52 |
| We Sell 10-19 Coins | $228.52 |
| We Sell 20+ Coins | $226.52 |
| We Buy 5-9 Coins | $182.52 |
| We Buy 10-19 Coins | $185.52 |
| We Buy 20+ Coins | $187.52 |
1/20 oz Gold Maple Leaf (Year Varies - Sealed)
| Quantity | Price |
| --- | --- |
| We Sell 5-9 oz | $171.22 |
| We Sell 10-19 oz | $170.22 |
| We Sell 20+ oz | $168.02 |
| We Buy 5-9 oz | $108.8 |
| We Buy 10-19 oz | $107.8 |
| We Buy 20+ oz | $106.8 |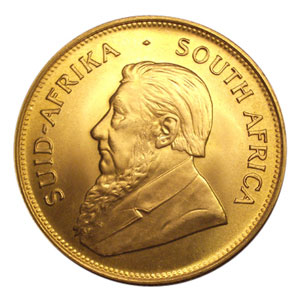 1 oz South Africa Gold Krugerrand (Year Varies)
| Quantity | Price |
| --- | --- |
| We Sell 5-9 oz | $1956.88 |
| We Sell 10-19 oz | $1951.88 |
| We Sell 20+ oz | $1946.88 |
| We Buy 5-9 oz | $1834.88 |
| We Buy 10-19 oz | $1837.88 |
| We Buy 20+ oz | $1839.88 |
1/2 oz Gold Krugerrand (Year Varies)
| Quantity | Price |
| --- | --- |
| We Sell 5-9 oz | $1081.15 |
| We Sell 10-19 oz | $1079.15 |
| We Sell 20+ oz | $1073.15 |
| We Buy 5-9 oz | $904.15 |
| We Buy 10-19 oz | $909.15 |
| We Buy 20+ oz | $915.15 |
1/4 oz Gold Krugerrand (Year Varies)
| Quantity | Price |
| --- | --- |
| We Sell 5-9 oz | $576.43 |
| We Sell 10-19 oz | $573.43 |
| We Sell 20+ oz | $571.43 |
| We Buy 5-9 oz | $456.43 |
| We Buy 10-19 oz | $459.43 |
| We Buy 20+ oz | $461.43 |
1/10 oz Gold Krugerrand (Year Varies)
| Quantity | Price |
| --- | --- |
| We Sell 5-9 oz | $258.31 |
| We Sell 10-19 oz | $255.31 |
| We Sell 20+ oz | $253.31 |
| We Buy 5-9 oz | $178.31 |
| We Buy 10-19 oz | $181.31 |
| We Buy 20+ oz | $183.31 |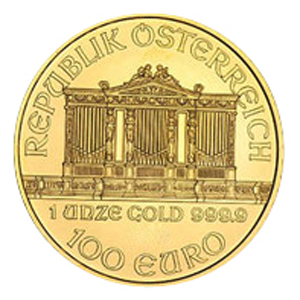 1 oz Austrian Philharmonic Gold Coin (Year Varies)
| Quantity | Price |
| --- | --- |
| We Sell 5-9 oz | $1959.88 |
| We Sell 10-19 oz | $1956.88 |
| We Sell 20+ oz | $1954.88 |
| We Buy 5-9 oz | $1839.88 |
| We Buy 10-19 oz | $1842.88 |
| We Buy 20+ oz | $1844.88 |
1 oz Gold Britannia (Year Varies)
| Quantity | Price |
| --- | --- |
| We Sell 5-9 oz | $1954.46 |
| We Sell 10-19 oz | $1949.46 |
| We Sell 20+ oz | $1944.46 |
| We Buy 5-9 oz | $1841.46 |
| We Buy 10-19 oz | $1844.46 |
| We Buy 20+ oz | $1846.46 |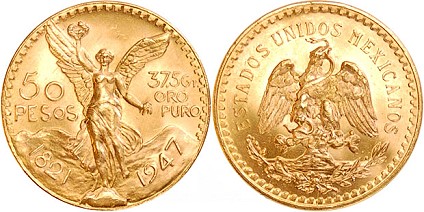 Mexico Gold 50 Peso
| Quantity | Price |
| --- | --- |
| We Sell 5-9 oz | $2506.92 |
| We Sell 10-19 oz | $2502.92 |
| We Sell 20+ oz | $2500.92 |
| We Buy 5-9 oz | $2233.92 |
| We Buy 10-19 oz | $2236.92 |
| We Buy 20+ oz | $2238.92 |
Mexico Gold 20 Peso
| Quantity | Price |
| --- | --- |
| We Sell 5-9 oz | $969.09 |
| We Sell 10-19 oz | $966.09 |
| We Sell 20+ oz | $963.09 |
| We Buy 5-9 oz | $839.09 |
| We Buy 10-19 oz | $849.09 |
| We Buy 20+ oz | $859.09 |
Britain 1 Sovereign
| Quantity | Price |
| --- | --- |
| We Sell 5-9 oz | $494.41 |
| We Sell 10-19 oz | $492.41 |
| We Sell 20+ oz | $490.41 |
| We Buy 5-9 oz | $481.41 |
| We Buy 10-19 oz | $422.41 |
| We Buy 20+ oz | $423.41 |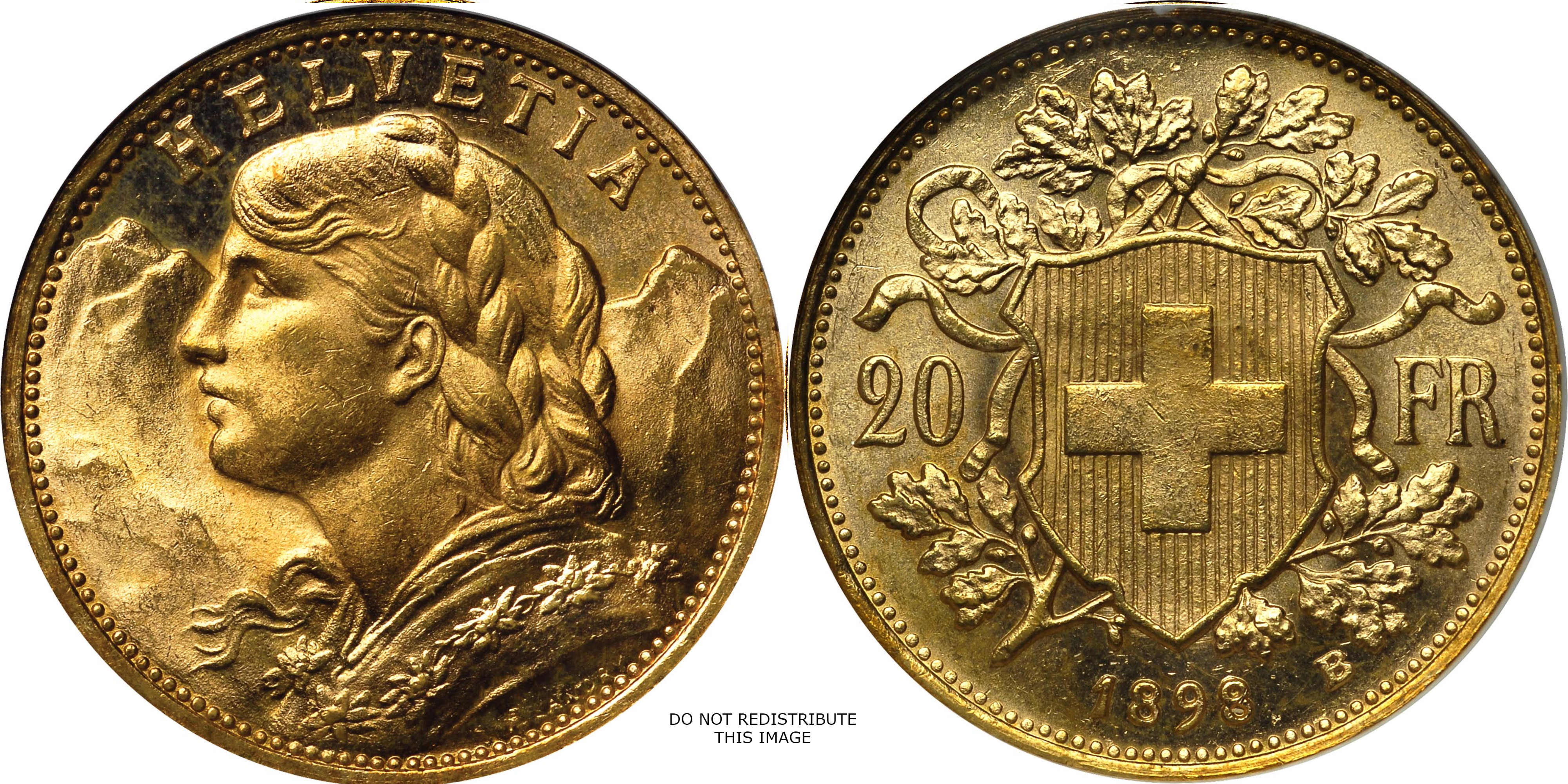 Switzerland Gold 20 Francs - Helvetia
| Quantity | Price |
| --- | --- |
| We Sell 5-9 oz | $402.29 |
| We Sell 10-19 oz | $401.29 |
| We Sell 20+ oz | $400.29 |
| We Buy 5-9 oz | $325.29 |
| We Buy 10-19 oz | $328.29 |
| We Buy 20+ oz | $330.29 |
France Gold 20 Francs
| Quantity | Price |
| --- | --- |
| We Sell 5-9 oz | $394.29 |
| We Sell 10-19 oz | $393.29 |
| We Sell 20+ oz | $392.29 |
| We Buy 5-9 oz | $325.29 |
| We Buy 10-19 oz | $328.29 |
| We Buy 20+ oz | $330.29 |